FOR FISH MOUNTS & FISH REPLICAS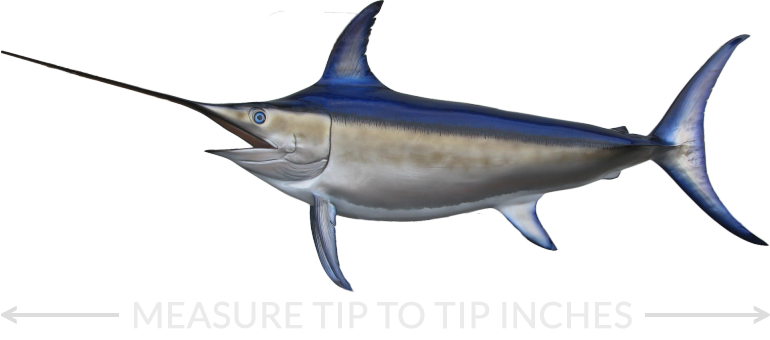 For most fish mounts, pricing is determined based on the length of your fish. Please measure to tip-to-tip.
* There is a minimum charge of $295.00
Click here to request a quote.

Head mounts are 70% of a life-size mount.
Price includes hangers on the back of all fish mounts ready to proudly display on your wall. Driftwood, panels, nameplates, baitfish, and custom bases are available for all applications. Select a custom background on our accessories page or during checkout to really enhance the best features of your trophy fish mount!
Help Selecting Fish Replicas
For assistance on choosing the proper fish replica or custom background, please feel free to contact us and we will be happy to assist you. If you have a photo or description, simply email as well and we will match it exactly.
We build, own, and stock over 2000 fish replica molds of all sizes and species that are custom created and painted for you in our facility one fish at a time to match the length, girth, and all of the specific characteristics and details only YOUR FISH displays.
For more information contact
(850) 763-6373
or email [email protected]
Terms
Customer agrees to pay a 50% deposit on the total amount of the fish mount at the submission of the order. It is agreed that the fish mount will be started with the payment of the 50% deposit. All deposits are non-refundable. Once your fish has been started, it is your fish. We create one of a kind fish for our customers. Customer agrees to the collection of the remaining balance of the fish mount two (2) month after the initial 50% deposit. The initial 50% deposit takes your fish mount through the creation stages. The payment of the remaining fish mount balances approves your mount through the final stages. Completion of your mount it generally 3-4 months after remaining balance is collected. Shipping and crating will be charged at the time of the shipment. Customer authorizes COAST TO COAST to process these charges at the designated times.
Artistic Agreement
Each fish mount created at COAST TO COAST is built and colored by highly skilled artists. Each fish mount is created from a mold that best matches the customer's fish with the coloration that is best interpreted and re-created by the COAST TO COAST artists. By ordering a fish mount through COAST TO COAST the customer agrees to accept the mold and coloration chosen and created by COAST TO COAST artists. Fish mounts will be shipped once completed and shipping and crated paid at this time. If a photo of the completed fish is desired prior to shipment - the customer must request a photo of each mount prior to shipment. If no photo is requested, each mount will be shipped upon completion.
100% Satisfaction Guarantee
Every mount created at COAST TO COAST includes a 100% satisfaction guarantee. If the customers is not satisfied in any way with the fish mount created for them, they may submit for a change in the mount through the following ways:
Prior to shipment of mount –
A photo of the completed mount can be requested by the customer prior to the shipment of the mount. If the customer receives a photo and requests any changes in the mount, all changes must be submitted to COAST TO COAST in writing stating the specific changes to be made on the mount. COAST TO COAST will make the specific changes requested and submit a new photo of the mount to the customer. If future changes are requested by the customer, changes must be submitted in writing and addition changes to the mount will be billed based on time and materials (shop rate of $125/hour)
Post shipment of mount -
If the customer receives a mount from COAST TO COAST and desires any changes to the mount, the customer may return the fish mount to COAST TO COAST with the specified changes stated in writing. Changes to the fish mount will be performed by COAST TO COAST artists and photos of the resulting fish mount will be forwarded to the customer. If further changes are requested by the customer, additional changes to the mount will be billed based on time and materials (shop rate of $125/hour). All shipping/crating charges are the customer's responsibility.
Completion Time
At this time, completion time on your trophy fish mount is approx. 4-6 months from receipt of your deposit.
Rush Service
30-day rush service is available for an additional charge of $8.00 per linear inch.
Shipping
Your trophy fish mount is carefully crated, packed, fully insured, and shipped in our specially made, custom boxes to fit your fish mount. Each package is carefully tracked when it leaves our facility until reaching its final destination.
Cost of shipping, crating and insurance is determined upon completion. Average costs can run $350.00 – $500.00, depending on destination. Shipments to Washington State, California, Alaska and Hawaii are not included in the pricing below and would be determined upon completion with dimensions and weight of shipment.
All fish mounts from 0" – 50" are normally shipped UPS ground.
| | |
| --- | --- |
| Size | Shipping Price |
| Fish 0" - 19" | To be determined |
| Fish 20" - 30" | To be determined |
| Fish 31" - 40" | To be determined |
| Fish 41" - 50" | To be determined |
| Fish 51+ | To be determined |
All fish mounts 51" and over are normally crated and shipped by LTL carrier.
Accepting All Major Credit Cards