FOR FISH MOUNTS & FISH REPLICAS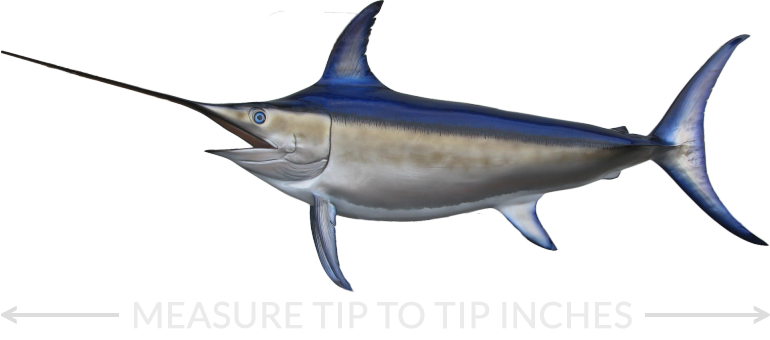 $16.00 per linear inch ( 40" and up )
$18.00 per linear inch ( 25" - 39")
$20.00 per linear inch ( 0" - 24" )
* All large mouth & small mouth bass are billed at $22/inch regardless of length
* There is a minimum charge of $375.00
*All billfish mounts over 40" are billed at $12.50/inch
Pedestal Fish Mounts $25.00 per linear inch plus additional $95 for pedestal installation. (Does not include base)
Head mounts are 70% of a life-size mount.
Price includes hangers on the back of all fish mounts ready to proudly display on your wall. Driftwood, panels, nameplates, baitfish, and custom bases are available for all applications. Select a custom background on our accessories page or during checkout to really enhance the best features of your trophy fish mount!
Help Selecting Fish Replicas
For assistance on choosing the proper fish replica or custom background, please feel free to contact us and we will be happy to assist you. If you have a photo or description, simply email as well and we will match it exactly.
We build, own, and stock over 2000 fish replica molds of all sizes and species that are custom created and painted for you in our facility one fish at a time to match the length, girth, and all of the specific characteristics and details only YOUR FISH displays.
For more information contact Joe
(860) 613-2067
or email [email protected]
Terms
50% deposit is required to begin designing and creating your trophy fish mount. Upon completion you will be billed for the balance due and any additional accessories that you may have chosen.
Completion Time
Completion time on your trophy fish mount is approx. 90 - 180 days from receipt of your deposit.
Rush Service
30-day rush service is available for an additional charge of $6.00 per linear inch.
Return Shipping
Your trophy fish mount is carefully crated, packed, fully insured, and shipped in our specially made, custom boxes to fit your fish mount. Each package is carefully tracked when it leaves our facility until reaching its final destination.
Cost of shipping, crating and insurance is determined upon completion. Average costs can run $85.00 - $150.00, depending on destination. Shipments to Washington State, California, Alaska and Hawaii are not included in the pricing below and would be determined upon completion with dimensions and weight of shipment.
All fish mounts from 0" – 50" are normally shipped UPS ground.
| | |
| --- | --- |
| Size | Shipping Price |
| Fish 0" - 19" | $85.00 + |
| Fish 20" - 30" | $95.00 + |
| Fish 31" - 40" | $125.00 + |
| Fish 41" - 50" | $150.00 + |
All fish mounts 50" and over are normally crated and shipped by common carrier. Call office for quote.
Accepting All Major Credit Cards